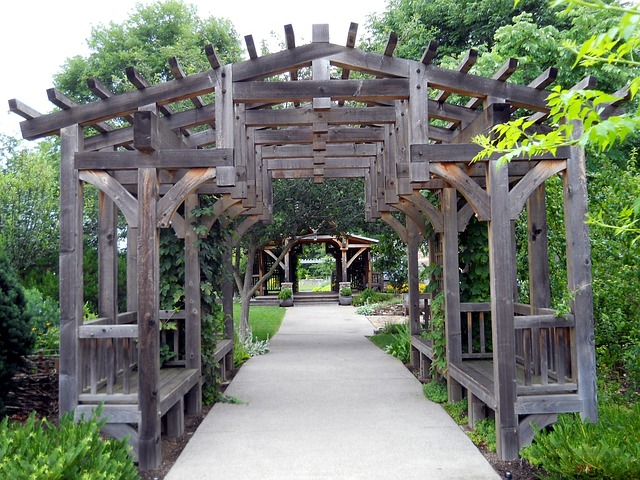 Expand your horizons beyond traditional outdoor gatherings and embrace the concept of a personalized pergola design. By opting for a pergola, you can enjoy a shaded area that shields you from direct sunlight, providing a dedicated space for dining, conversing, and relaxation. If you take pride in showcasing your home, yard, and surroundings, a pergola with a roof offers an ideal setting to engage in conversation and create a warm and inviting outdoor living space. Maximize the utility of your pergola by frequently gathering your guests under its covered space. In addition to serving as an outdoor entertainment and dining area, a pergola can also serve as a perfect outdoor office. I would highly recommend you take a look at bioclimatic retractable pergolas.
Poolside Lounge
A pergola can provide shelter from the sun, rain, and wind, enhancing the relaxation and poolside experience. In addition to deck chairs and umbrellas, a pergola offers the opportunity to create an outdoor bar, seating area, and tables, eliminating the need to go indoors. To create an inviting and serene outdoor space near the water, consider adding curtains, string lights, lanterns, or plants to your pergola. Furthermore, if you have an outdoor hot tub, a DIY pergola can be an excellent way to create a private and romantic ambiance.
Graceful Garden
Pergolas and gardens share a rich history, evident in historical records and romantic artworks. You can carry on this tradition by creating an exquisite outdoor space. Enhance your garden with a wooden or aluminum pergola, ranging from small to large, extending gracefully over meandering pathways. Embrace a rustic aesthetic by incorporating a storage bench for gardening tools or a work table for pots and seedlings beneath the pergola. Allow climbing vines, roses, and other beautiful plants to envelop the pergola canopy, providing shade and privacy. For a captivating garden ambiance at twilight, adorn the pergola's edges with hanging potted plants and decorative lighting. Create a serene outdoor haven for relaxation, reading, contemplation, and savouring the beauty of nature.
Expanding into the Open Air
The popularity of the bio-climatic retractable pergola is on the rise among modern homes designed with an open layout, allowing for a seamless transition between indoor and outdoor areas. With a pergola installed on the exterior side of your home, extending towards the backyard, you can create a harmonious blend of natural and man-made environments. Adding a roof to your open patio space or walkway through the construction of a pergola provides an appealing cover for your outdoor area. Enhance the atmosphere by furnishing it with suitable furniture, taking in the beauty of the surrounding landscapes, and enjoying the melodious songs of local birds. Additionally, you have the option to customize your pergola covers to match the style and colour that naturally complements the appearance and aesthetic of your home.
Deck Worthy
For those seeking to preserve an unobstructed view of the sky while adding some shade to their deck, a pergola can be an ideal choice. One possible solution, suitable for various budgets and deck designs, is to install a customized, lightweight, and sturdy pergola that covers specific areas of the deck. Consider placing a pergola with a retractable roof in a prominent corner or an unconventional section of the deck to create a dedicated space for relaxing underneath. Moreover, a pergola can be designed to accommodate swings, barbecue grills, or lounge areas, making it both visually appealing and providing partial protection from the sun and rain.